Brandon Fritts enters the field in a cloud of smoke before the UNC vs. UVA football game.
A Cleveland Browns fan holds up a homemade sign, "Hey Lebron, can you play quarterback?" during the Browns 0-16 parade.
Notre Dame's gold helmets get packed up after a football game in 2017.
Georgia State commit, TJ Smith, runs drills during summer practices in Laurinburg, NC.
Cal quarterback, Ross Bowers, hugs his father in the crowd after his first collegiate start and win.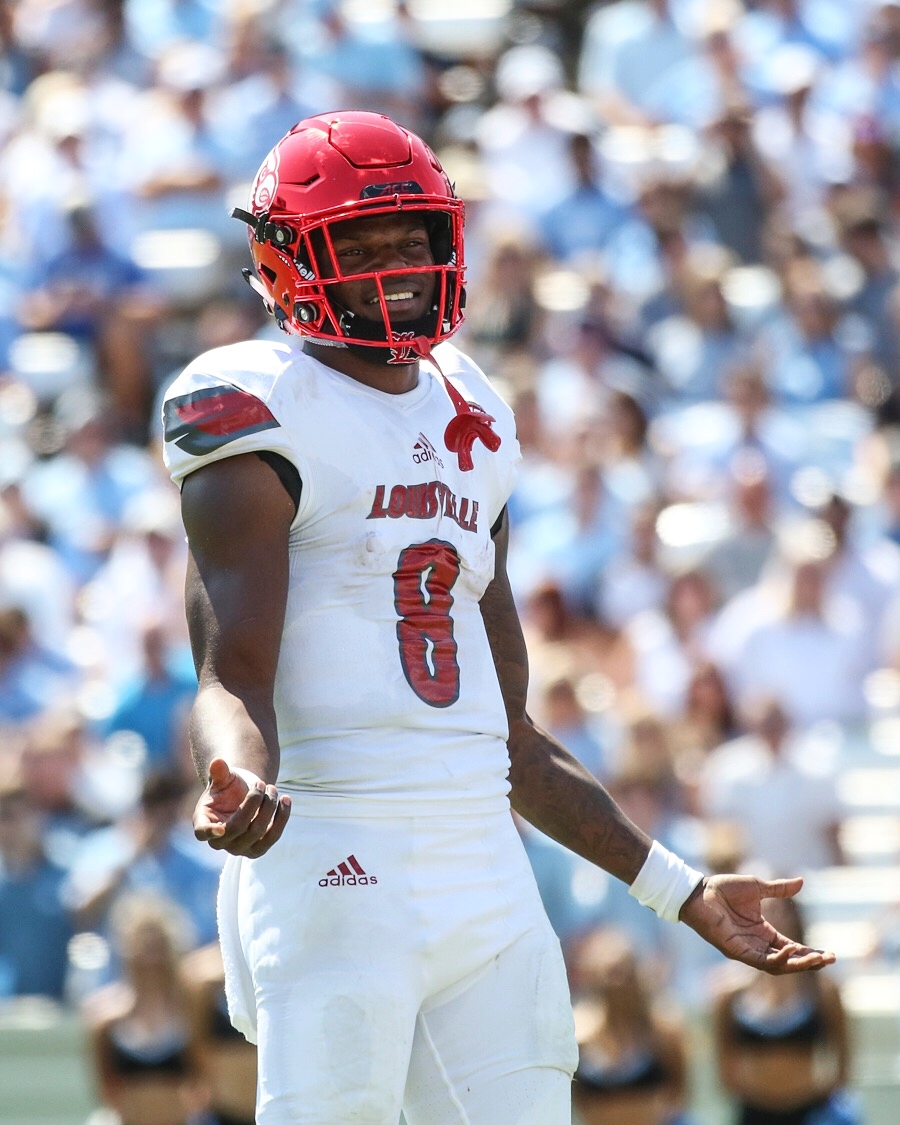 Lamar Jackson holds his hands up in disagreement with a call made by a referee during the Louisville vs. UNC game.
Notre Dame quarterback, Ian Book, fumbles the ball in a hand off attempt to wide receiver Cameron Smith.
UNC specialist, Anthony Ratliff Williams, catches a punt on the one yard line at Kenan Memorial Stadium.
A Cleveland Browns fan smirks as the team loses another game on Christmas Eve, Dec. 24.
Bug Howard waves goodbye to the fans at UNC Chapel Hill as he exits his last game at Kenan Memorial Stadium.
UNC tight end, Brandon Fritts, celebrates at Heinz Field after UNC wins its only ACC conference game of the season.
UNC football players prepare to storm the field at the beginning of the 2016 season.
Mitchell Trusbisky celebrates in the snow after running in his first NFL career touchdown for the Chicago Bears.
UVA Cornerback, Bryce Hall, picks off UNC quarterback Brandon Harris over the head of UNC wide receiver, Anthony Ratliff.
Cleveland Browns fans ride on the hood of a van during the "Perfect Season" Parade.
Top running back recruit, Zamir White, commits to Georgia on June 23, 2017.
UNC wide receiver Beau Corrales spins into the endzone during the UNC vs. Miami game.
Miami football players huddle together before a game on October 28, 2017.
UNC defensive back, Myles Wolfolk, leaps to tackle Pittsburgh wide receiver, Quadree Henderson.
Josh Gordon exhales in frustration while looking up at the scoreboard as the Cleveland Browns lose their fifteenth game of the season.
Nassir Jones slings a chain over his shoulder which at UNC symbolizes unity on the defensive line.
Notre Dame quarterback Ian Book recovers a low snap during the 2017 season.
UNC defensive tackle Jalen Dalton tackles Pittsburgh quarterback Ben Dinucci during the game at Heinz Field.
A Cleveland Browns fan cheers as the Browns put their first points on the board during the Browns vs. Jaguars game.
Coach Larry Fedora relays his frustration after UNC is called for a third penalty totaling a loss of 30 yards.
UNC Wide Receiver scores while playing during Hurricane Matthew.
UNC quarterback Mitchell Trubisky hands the ball off to Elijah Hood during his last home game at Kenan Memorial Stadium.
Myles Garrett of the Cleveland Browns blocks a field goal attempt by the Chicago Bears.