Brandon Fritts enters the field in a cloud of smoke before the UNC vs. UVA football game.
A Cleveland Browns fan cheers as the Browns put their first points on the board during the Browns vs. Jaguars game.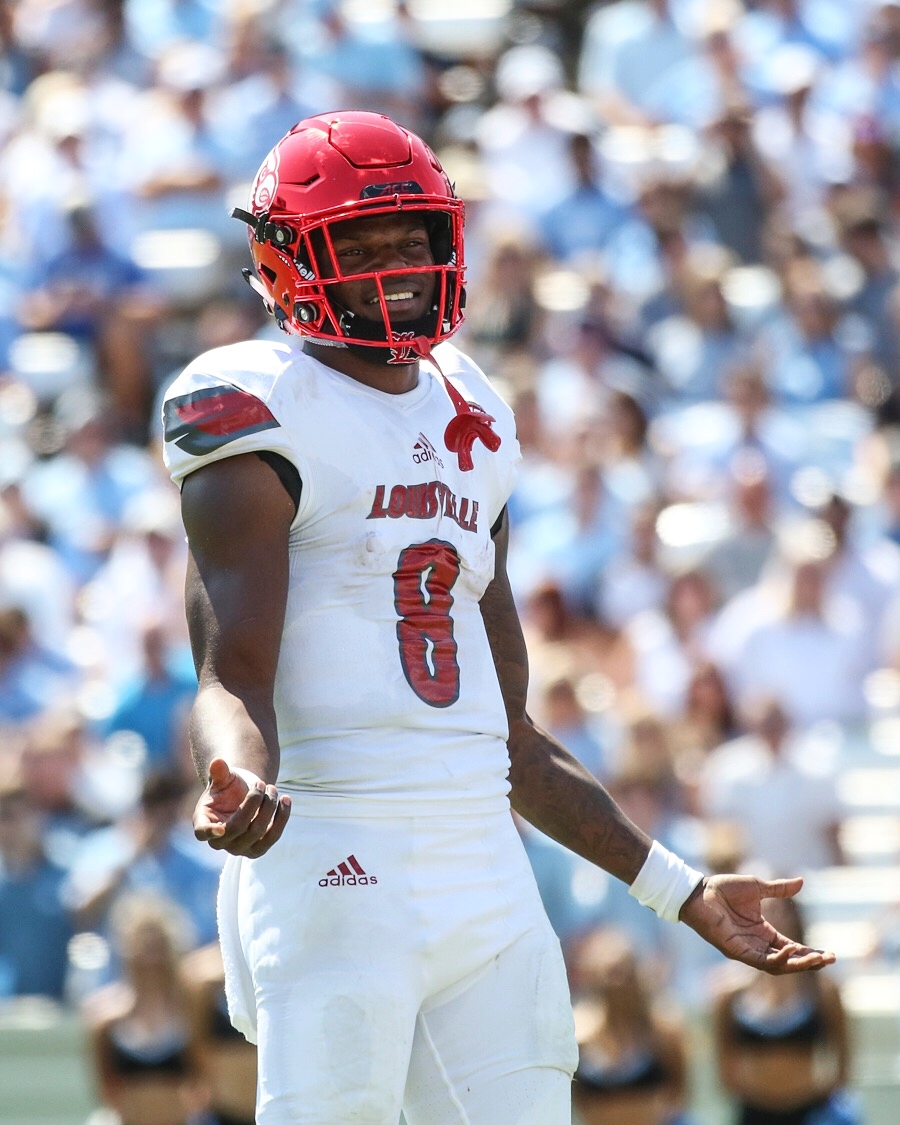 Lamar Jackson holds his hands up in disagreement with a call made by a referee during the Louisville vs. UNC game.
A Cleveland Browns fan smirks as the team loses another game on Christmas Eve, Dec. 24.
A Cameron Crazy gets pumped before the Duke vs. UNC game.
UNC basketball's starting five during the 2016-2017 Media Day.
UNC basketball's Theo Pinson is interviewed after beating Duke to advance to the ACC Tournament Championship game in Brooklyn, NY.
UNC guard, Kenny Williams, stretches before a game at the Dean Smith Center.
Oregon Junior Jordan Bell is emotional after losing to North Carolina for the opportunity to advance to the 2017 National Championship.
UNC basketball's Theo Pinson fights back emotions as he realizes that UNC will lose to Texas A&M which means he is playing in his last game in a Carolina uniform.
UNC basketball player Luke Maye grins after hitting the game winning shot to send UNC to the Final Four.
Kentucky freshman, Malik Monk, is announced before the 2017 NCAA Tournament Elite Eight game.
Justin Jackson, now with the Sacramento Kings, comes back to the Dean Smith Center to watch his jersey retired in the rafters.
Duke head coach Mike Krzyzewski pauses during interviews with the media after Duke lost to UNC at the Dean Smith Center.
Javier Baez of the Chicago Cubs goofs off in the dugout at Wrigley Field.
Indians baseball player, Francisco Lindor, plays with his necklace before a game at Progressive Field.
UNC shortstop, Ike Freeman smiles while on deck during the ACC tournament game against Georgia Tech.
Michael Busch celebrates Carolina Baseball's win over Stetson to send UNC back to Omaha.
Houston baseball player Carter Henry screams after a walk off homerun during the NCAA Regional tournament in Chapel Hill, North Carolina.